Indiaas prutje
Dit gerecht heet in huize Plien's het 'Indiaas prutje'. Ik weet het dat klinkt niet heel aantrekkelijk, maar dat is het wel. In plaats van met een broodje kun je het ook heel goed met rijst eten.
Er zit gehakt, paksoi en allerlei groente in en serveer je met een lekker yoghurt-mango sausje.
Wat heb je nodig?
Gehakt-groente
Rundergehakt
Paksoi, in dunne reepjes
Doosje champignons, in plakjes
Paprika, in blokjes
1 eetlepel Indiase Curry pasta (pot Patak), of 1,5 als je van wat pittiger houdt.
Voor het sausje:
2 eetlepels mangochutney (potje Patak)
ca. 200 ml volle yoghurt
 versgemalen zwarte peper
0,5 theelepel komijn
0,5 theelepel korianderpoeder (als je geen komijn of koriander hebt, kan het ook zonder)
Naanbroodjes (pitabroodjes kan ook, kies dan de volkoren)
Hoe maak je het?
Gehakt rul bakken met de curry pasta.
Het witte gedeelte van de paksoi in dunne reepjes snijden. Het groene ook, dat houd je apart.
Champignons en witte gedeelte van paksoi meebakken.
Paprika erbij. Paar minuten bakken. Ondertussen doe je de broodjes in de oven. Even natmaken vooraf, bakt veel lekkerder.
Op het laatste het groene gedeelte van de paksoi erbij doen. Dit hoeft maar 1-2 minuten.
Sausje: yoghurt mengen met mangochutney. Evt. koriander en komijn erbij doen. Proef het sausje. Vind je het nog te zuur, doe dan wat mangochutney toe. Die chutney bevat wel veel suiker dat zul je wel proeven. Ik gebruik normaal amper potjes, maar dit sausje heb ik zelf nog niet zo na kunnen maken. Voor af en toe moet het kunnen.
Tip: heb je chutney over? Blijft weken goed in de koelkast. Je kunt het ook op een boterham met kipfilet smeren. Of bij een blokje oude kaas eten.
Serveren: aan tafel vul je de broodjes met het vlees-groente-mengsel en het sausje. Het zoetige sausje combineert lekker met het gekruide vlees.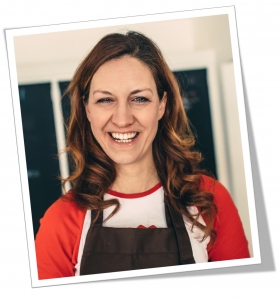 Spreekt dit je aan en wil je niks missen van de tips en recepten van Plien's? Schrijf je dan hier in voor Plien's Nieuws. En op Insta of Facebook kun je me volgen voor nog meer inspiratie en tips over gezond eten op een makkelijke manier!